The Hertrich Family would like to introduce Keith Seeney, a world class team member since 2003. A Dover native who still lives in his home town, Keith began his journey with us at Hertrich Nissan where he worked as a Sales Consultant and then Detail Manager as well until late 2008. At that time, he decided to become a Guards member like his father before him. Keith's Dad was drafted for deployment in Viet Nam and remained in the 261st Signal Brigade (then housed in Dover) for 25 years. Keith began his own journey with the Guards in 2009 at the age of 28 and did his basic training at Fort Jackson, NC. He then trained at Fort Leonard Wood, MO with the goal of becoming a commercial electrician with the civil engineers of the local 160th Engineer Company in Newark.
Keith returned to the Hertrich Family again as a Detail Manager for Hertrich's Capitol in 2012 after two years assisting the Recruiting Department of the Guard when he was not on orders. In his tenure with the Guard, he has received orders to El Salvador and also to Trinidad where he assisted masons in his unit with construction of foundations for schools. He believes his next overseas orders will be to Poland in 2018. Keith joined us at our recent Military Employee Appreciation event at Hertrich Ford Lincoln on September 27th fresh off of 3 month orders to help with inventory for a NGB inspection. To the delight of his General Manager Travis Cooper, he arrived at the event still in his fatigues. Keith said that even though military orders and deployment can be a bit unpredictable, he knows that he will never have an issue with returning to the Hertrich Family. The transition is always easy. When asked why he decided to transfer back to the Sales Department with Capitol from Detail in 2016, Keith said, "I missed it - once you get bitten by the sales bug, you just have to come back to it."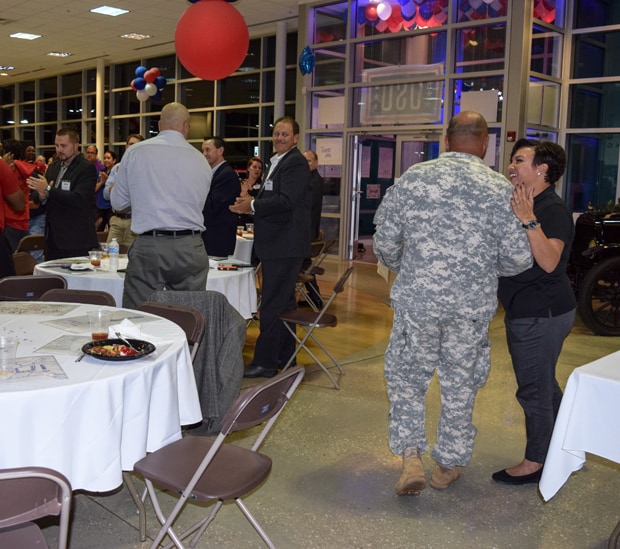 And we say "WELCOME BACK," Sergeant Seeney. Your Capitol family missed you but appreciate your dedication to the United States Military as a citizen soldier with the DE Army National Guard, as do the rest of the members of our World Class Team here at Hertrich. We understand the sacrifices that you make juggling a civilian life and professional career while maintaining your civil engineer job with the 160th. Your selfless dedication and hard work for all of the above does not go unnoticed. Thank you for your efforts from all of us.