Hertrich partners with great local organizations who help our communities

For three generations, the Hertrich Family has dedicated themselves to supporting the impactful individuals in our local community, making their lives better and easier. We value our community partners and we enjoy working with these impactful individuals directly to make this world a better place. Hertrich Family of Automobile Dealerships is proud to be recognized as a Delaware Family Owned Business Award winner for our community impact.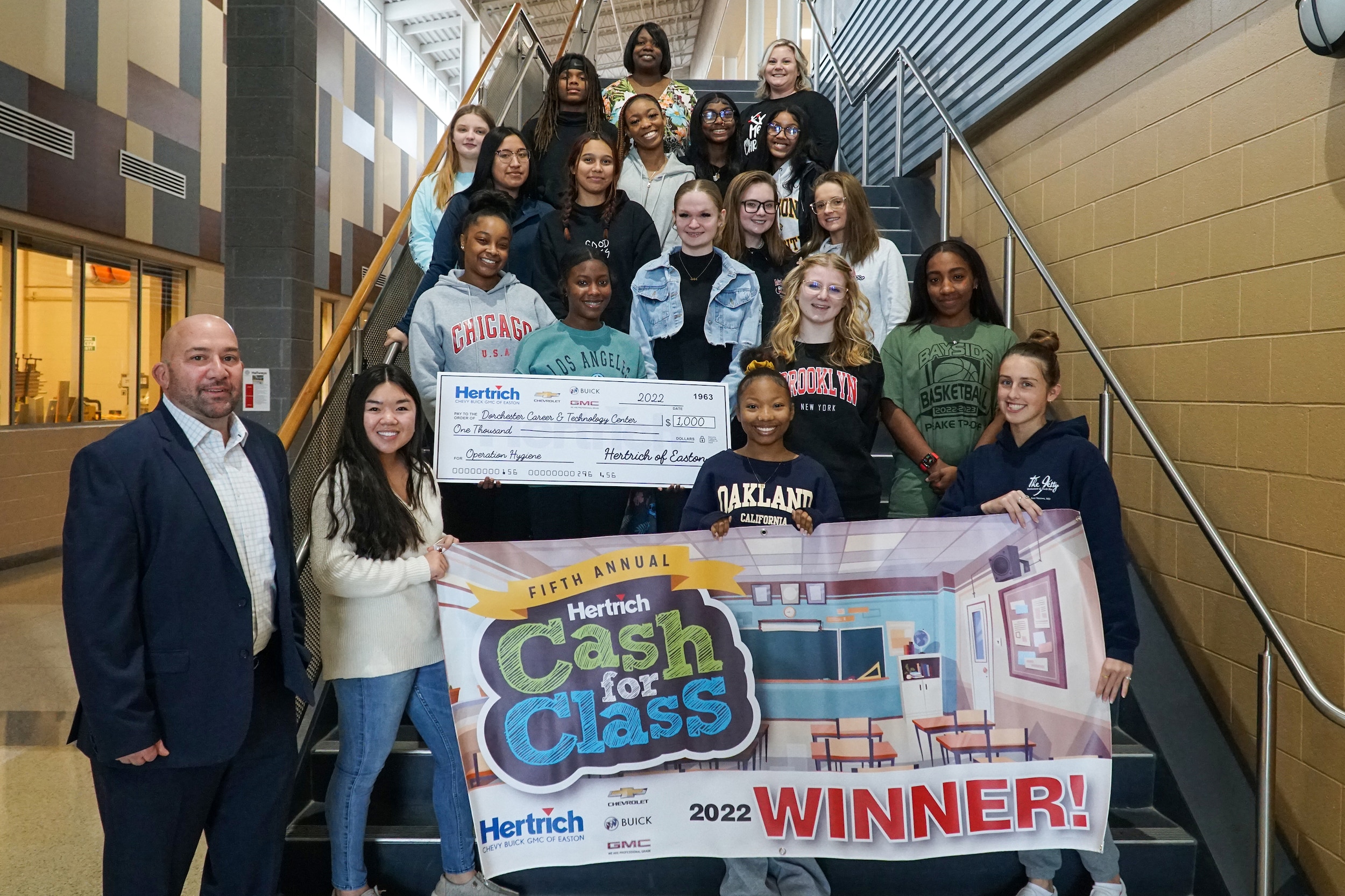 Cash for Class
​Hertrich Cash for Class allows educators on Delmarva the opportunity to earn funds for their classrooms. 
Throughout the five-year existence of the program Hertrich has funded a total of 127 classrooms, gifting a total of over $126,000!
Teachers and students put together a short video telling Hertrich what their class(es) or school needed funds for! Hertrich reviews each request and if chosen, classrooms are awarded up to $1,000 locally directly to great classroom ideas benefiting students! Winners are determined by a panel of Hertrich and community judges, and is based upon the video conveying the need and benefit to students, why they are passionate about this project, the impact it will have, uniqueness of the idea, the use and execution of the idea and reativity of video. The next Cash for Class campaign will be in Fall 2023 and is limited to participating school districts and counties in Maryland and Delaware. For more information, please contact David at dsullivan@hertrichs.com.
PROJECTS IDEAS PERFECT FOR CASH FOR CLASS
A field trip you want to take.

A special experiment you want your students to try.

A new hands on learning idea.

New technology or classroom learning app.

New furniture or decor for reading room or courtyard.

Reading program or new library books.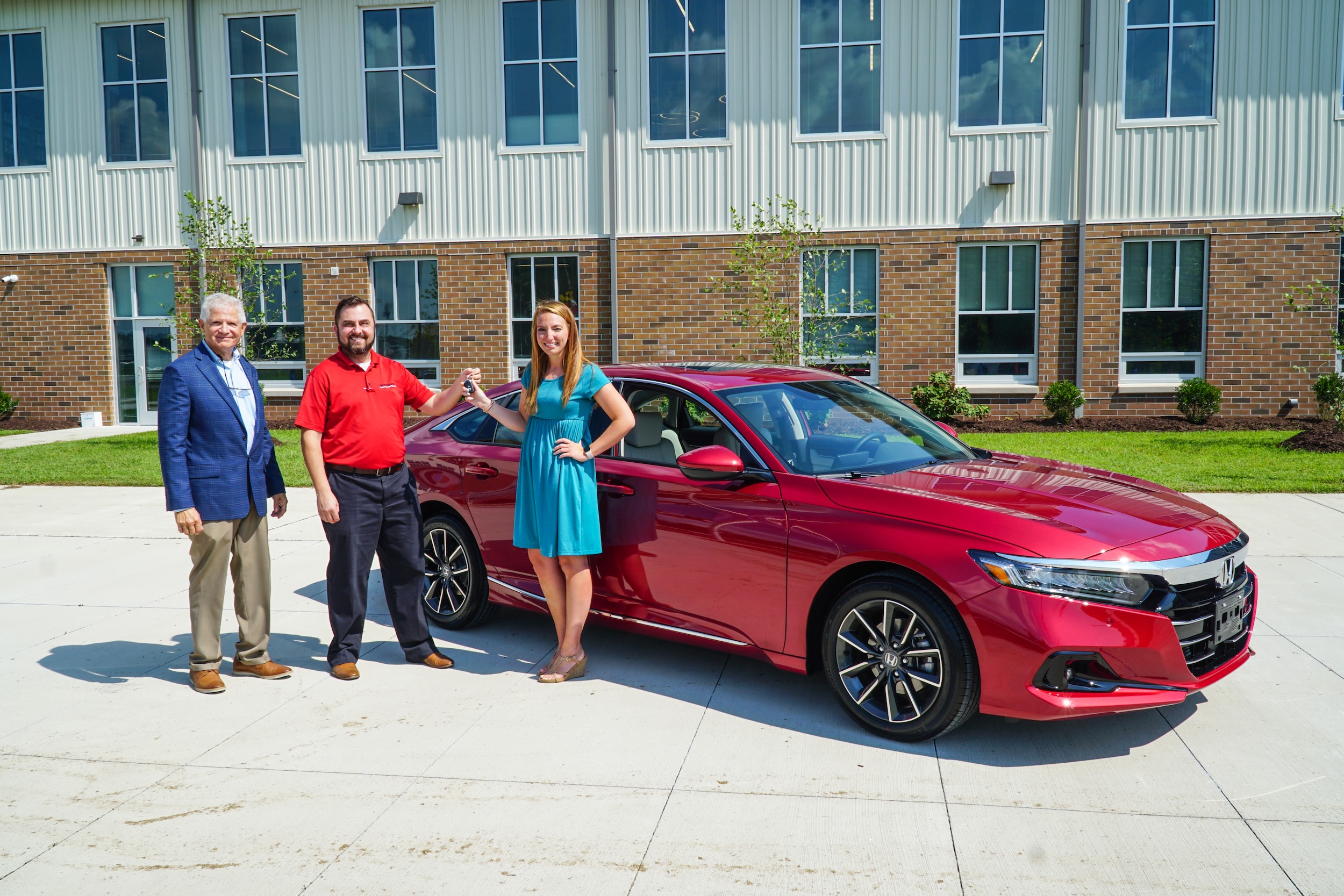 Teacher of the Year
WHY:
We believe in rewarding impactful individuals in our community and there is no one more impactful than the teachers who shape the minds of our young people.  To win
Teacher of the Year
is a distinct honor that shows you are world class in your field and we believe in recognizing and rewarding those individuals…with the use of a brand new SUV for a year!
HOW WE HELP:
Whether it be at the back-to-school assembly or a high school football game, there is no better way to motivate, inspire and create a sense of pride than to recognize and reward those who are leaders in their field and community.  For this reason, we always prepare an exciting public presentation of the Teacher's new vehicle, complete of course with lettering that announces the honor. 
Teacher of the Year nominated
Win 3 levels: school, district and county
Mentor Students
Be involved in the community
Impact hundreds of lives
Spend countless hours trying to better students
Compete in State Teacher of the Year
WHAT DOES IT TAKE TO BE THE TEACHER OF THE YEAR
Help make the school run efficiently 
Provide a safe environment for students
Be dedicated to the education of students
Always be a mentor and leader to students
Serve the community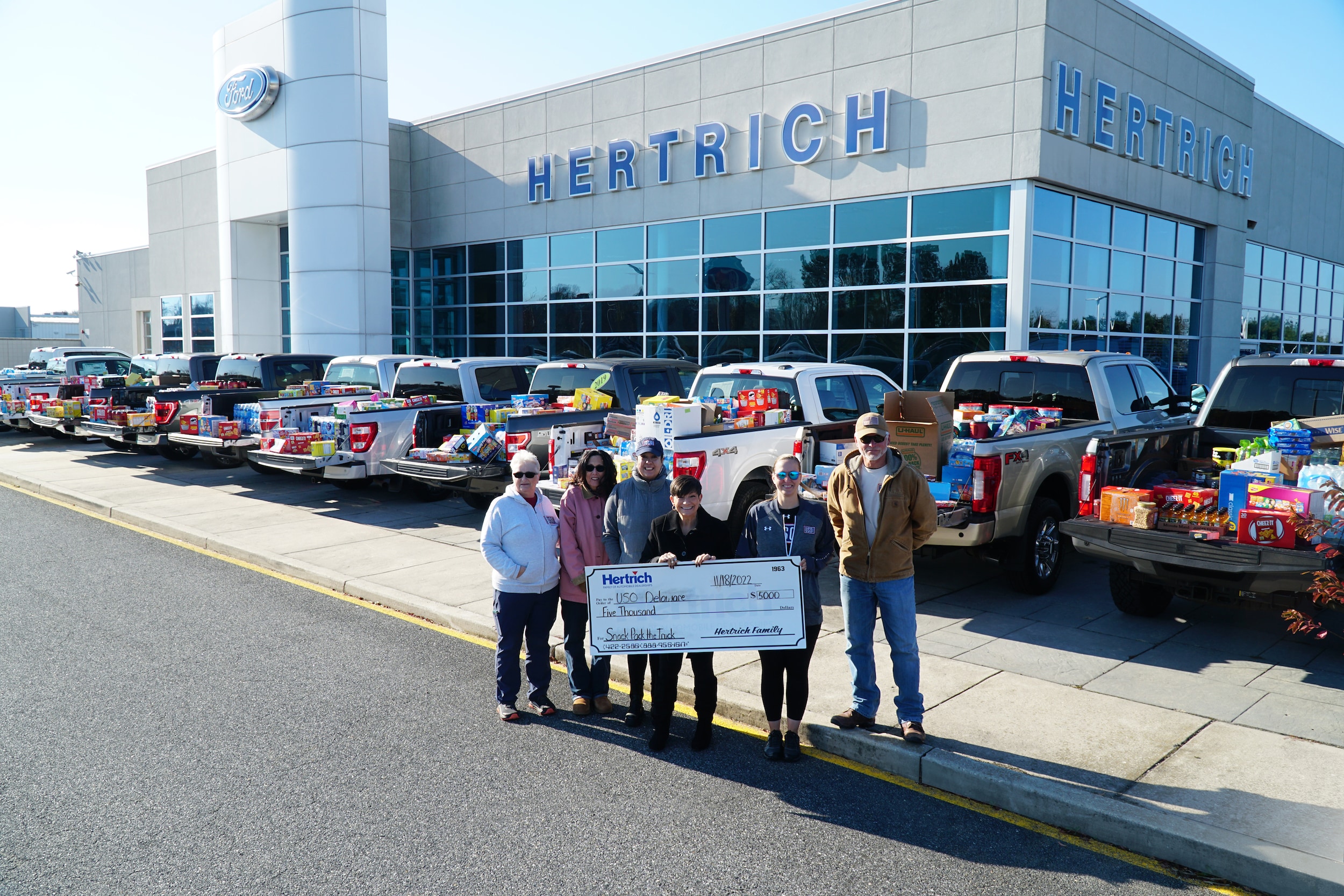 USO Delaware
WHY:
We believe in serving the men and women in uniform who serve our country.  That is the mission of the USO. Whether it is providing snacks at the USO lounge or NASCAR race, or providing for the troops who are called to assist during a natural disaster, the USO is the frontline support for our veterans and their families.

HOW:
The USO told us that they really needed snacks, so each year we snack pack the truck! - In 2022, we collected 11 trucks full of snacks and presented them to the USO in addition to funds we collect from our staff and customers.
SNACK PACK THE TRUCK
WHAT DOES IT TAKE TO HELP A HERO
Ask for the community's help to Snack Pack the Truck 
Fill 11 full pickup trucks with snacks
Donate a check to further the good of the USO 
Visit the USO to see first-hand the impact they have

Learn more about Snack Pack the Truck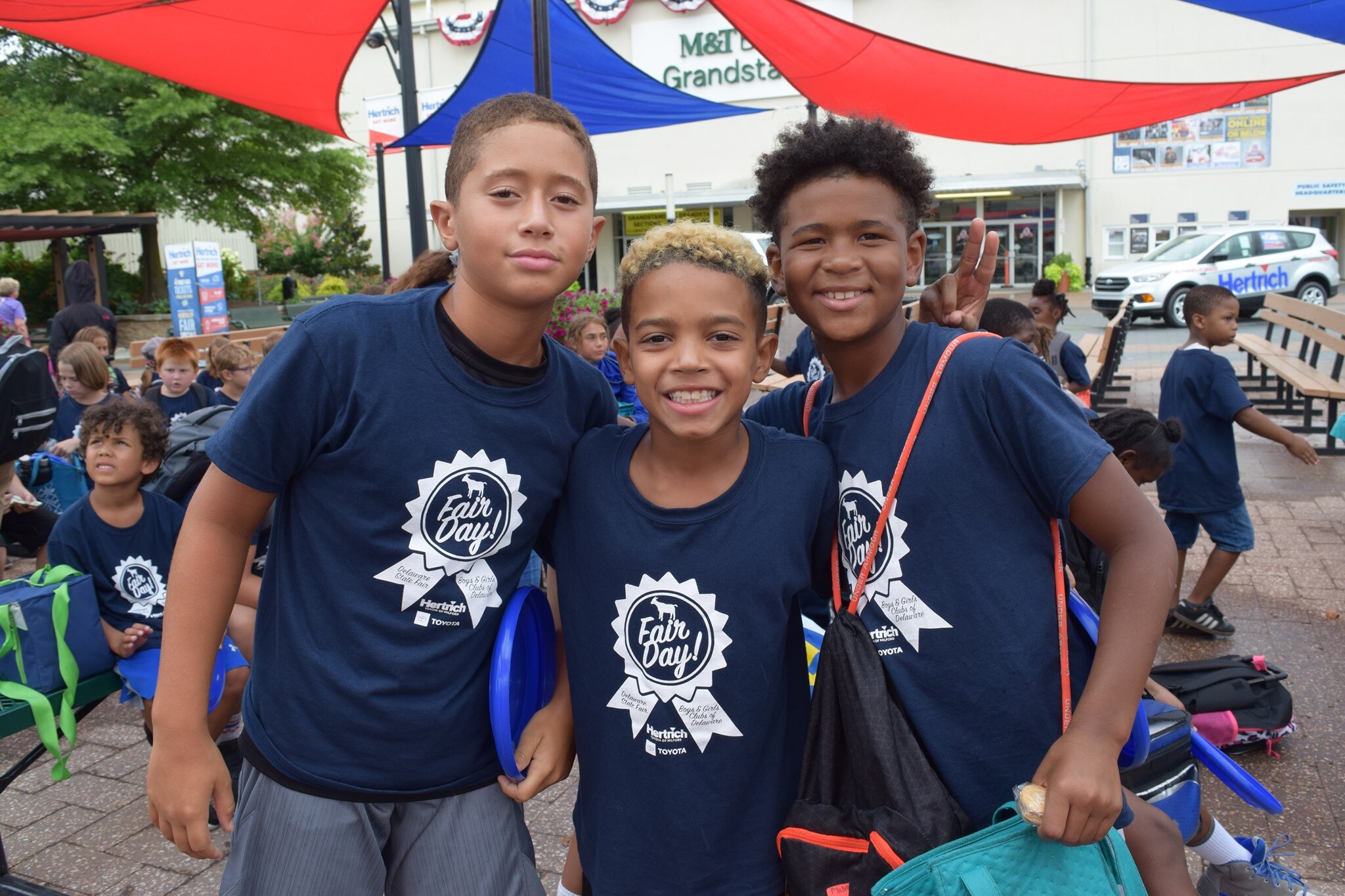 Boys And Girls Clubs
WHY THE BOYS AND GIRLS CLUB 
Help children build great futures 
Provide opportunities that expand the lives of young people 
Share our values 
Strive to help every child, especially those that need them most 
Serve the same communities we do


HOW WE HELP:
Agriculture is the number #1 industry in our area and there is no better place to learn about it than the Delaware State Fair.
FAIR DAY INCLUDED
Kids Day - 5 clubs. 600 kids
Learn about the circus
Feed a giraffe
Touch a live horseshoe crab
Pet animals…lots of animals
Learn about our natural resources
Eat as much fair food as possible
Get interviewed by the news

Sports develop character and character allows you to be great, which is why we sponsored the New Castle Basketball League.
EXPERIENCE GAINED BY BOYS AND GIRLS CLUBS B-BALL LEAGUES

Get announced like a professional player 
Learn to dribble
Make my first basket
Be part of a team
Develop confidence 
Stay active 
Build commitment

In order to support the kids in our community, the Boys and Girls Club needs the community to support them, which is why we often donate to the Local Clubs and specific programs they request as well as their annual gala. In fact, Fred Hertrich IV was honored with the Boys & Girls Club of Delaware's Great Futures Award for his dedicated support.
BENEFITS OF BOYS AND GIRLS CLUBS

Receive a healthy, well-balanced meal 
Get help with my homework
Get a scholarship 
Learn valuable life skills
Connect with caring adult staff and volunteers
Have fun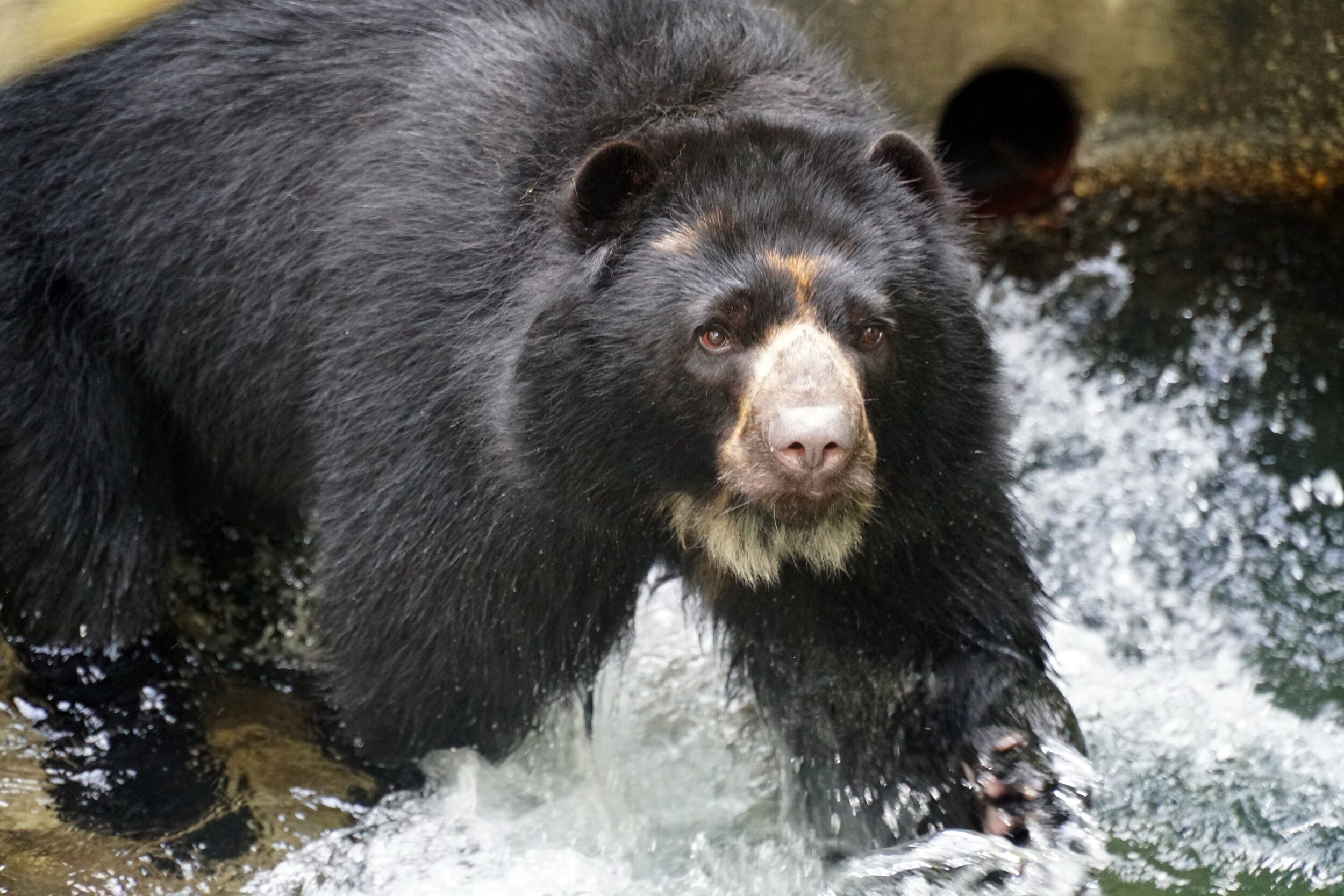 Salisbury Zoo
WHY:
The Salisbury Zoo has been a pillar of the community for many years.  Fred Hertrich IV recalled in a press conference that like much of the local community, he remembers visiting the zoo as a child and now loves taking his own children there. The Salisbury Zoo is one of the only remaining free zoos in the country and is focused on both the education of children of the community and the conservation of the animal species that reside there. 

HOW WE HELP:
Did you know a male Andean Bear can grow to be over 5 ft and can weigh up to 340 pounds? Now imagine what it would take to ship one internationally. As soon as we opened the new Hertrich Buick GMC of Salisbury, we immediately approached the zoo to see how we could help.  Turns out, they had a great opportunity to get a male Andean Bear from Ecuador to partner with their female bear Chaska. This was a huge opportunity for not only the community, but for the conservation of the species.  Only problem was they had to get him here.  After a lot of planning, we were able to join them in welcoming home to Salisbury our new friend Pinocchio. Since then we have continued our partnership with the Salisbury Zoo through participation in celebrations and events including Earth Day, coloring contests and the party unveiling of Pinocchio to the Salisbury Community.
WHAT DOES IT TAKE TO BRING AN ANDEAN BEAR FROM EQUADOR TO SALISBURY

Build and ship the bear travel crate
Get Pinocchio's travel papers approved by the government
Get crate out of customs
Salisbury Zoo's Andean Bear team meet Pinocchio
Crate train Pinocchio
Learn about conservation by looking for Andean Bears…In the Andean Mountains
Transport Pinocchio to airport and board a FedEx plane
Fly Pinocchio from Ecuador to Miami
Pinocchio goes through US customs
Drive from Miami to Salisbury
Welcome Pinocchio to his new home
Transition Pinocchio to a new habitat
Throw a party
Introduce Pinocchio to Chaska
Welcome baby cubs?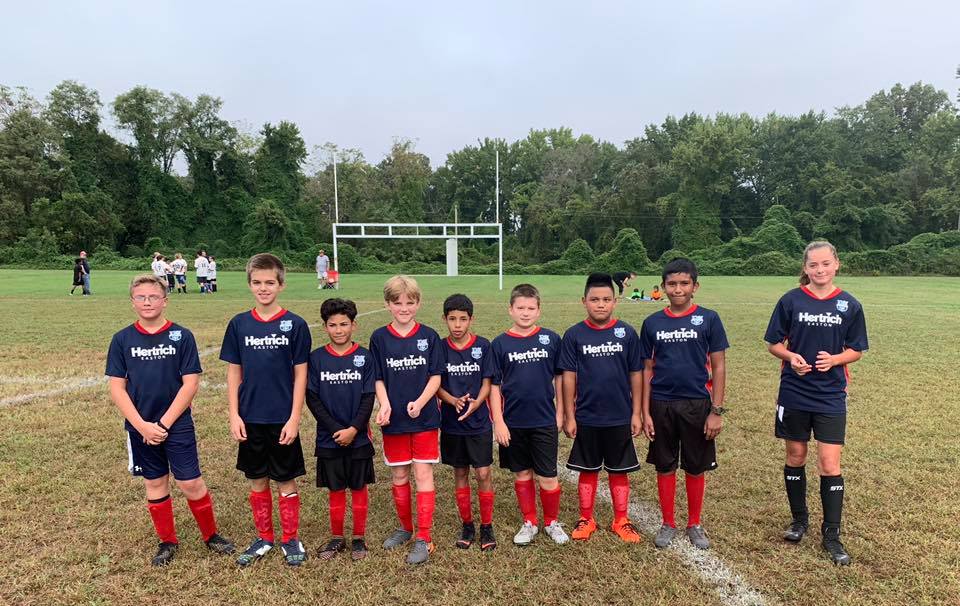 Additional Partners
•

Accomack County Public Schools
•

American Cancer Society
•

American Heart Association
•

Beebe Medical Foundation
•

Bethel Christian School
•

Boardwalk Buddy Walk Fund
•

Camden-Wyoming Little League
•

Cape Henlopen Educational Fund
•

Capitol School District
•

Caroline County Public Schools
•

Caroline County Youth Soccer
•

Caroline Humane Society
•

Cecil County Chamber of Commerce
•

Chesapeake Chamber Music
•

Children and Families First
•

Dickens Parlour Theatre
•

Delaware and Maryland Search Dogs
•

Delaware Knights of Columbus
•

Delta Waterfowl Foundation
•

Dorchester County School District
•

Draper Foundation/Bless our Children
•

Easton Volunteer Fire Dept
•

Ellendale Volunteer Fire Department
•

Friends of Caroline County
•

Greenbackville Volunteer Fire Dept
•

Horsey Family Golf Classic
•

Indian River School District
•

John M. Clayton Elementary School
•

John M. Scharp 5k / Beach Goes Blue
•

Kim and Evans Foundation
•

Marion Volunteer Fire Dept
•

Mid-Shore Community Foundation
•

Milford Chamber Scholarship Program
•

Milford School District
•

New Church Volunteer Fire and Rescue
•

Pocomoke City Elks Lodge
•

Pocomoke City Lions Club
•

Pocomoke City Volunteer Fire Company
•

Salisbury Chamber of Commerce
•

Seaford Historical Society
•

Seaford Little League Baseball
•

Seaford School District
•

St. Johns the Beloved Church
•

St. Michael's Little League
•

St. Michaels Middle/High School
•

Somerset County School District
•

Stevensonville Middle PTSA Pirates Inc
•

Stockton Fire Department
•

Sussex Tech Marching Band
•

Talbot Agriculture and Education
•

Talbot Country Public Schools
•

Talbot Figure Skating Team
•

Thomas A. Edison Charter School
•

Wicomico County School District
•

Worcester County Board of Education