While this year COVID has prevented us from safely collecting snack items in person, we know our partners at the USO still need our help! That is why this year we are going virtual and asking our friends, family, partners, customers and community to consider making a donation to the USO, an organization dedicated to serving our troops and their families.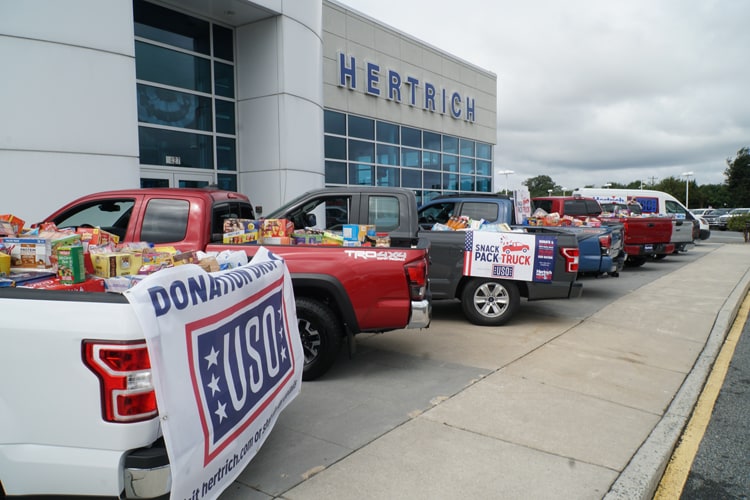 All proceeds will help supply travel snacks to our military members serving our nation.
The USO's purpose is to connect families and service members to home and country every day. Amid war, natural disasters, pandemics and any other situation our troops are called in to, the USO is the force behind the Forces. 
When the Guard is called into flood waters to deliver supplies and rescue hurricane victims, the USO is there to supply food and housing to our soldiers. 
When soldiers are deployed, the USO is there to support their family at home through various events and programs.
When soldiers are in a war zone, the USO is there to create USO centers where soldiers can go to relax and have access to phones, WIFI, tvs, games and a little taste of home.
When a soldier has a layover at the Dover Air Force Base before heading off to deployment, the USO is there to provide a comforting environment in their lounge for them to spend their last moments on US soil for months.
When a soldier is home, the USO is there to hold events for families to make memories and spend time with their love ones.
When America loses a hero, the fallen soldier is flown into the Dover Air Force Base, and the USO is there to arrange the dignified transfer as well as to host and care for the family. 
Then, when the pandemic hit, our Delaware Guard was there to provide testing and put themselves at risk to help keep all of us safe, and USO Delaware was there too, to provide food and supplies that our guardsmen needed to do their job safely.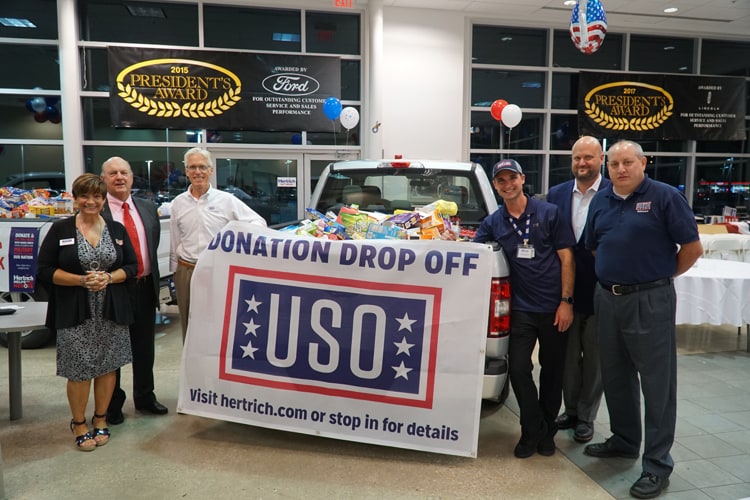 THE USO NEEDS OUR HELP NOW MORE THAN EVER
When COVID-19 hit and the world shut down, our Delaware National Guard went to work.  In fact, the National Guard has now been called to duty in all 50 states during this pandemic.  Across the nation and locally, guardsmen have been running mobile screenings, distributing food to foodbanks, delivering medical supplies, disinfecting public spaces, building and working at temporary medical centers and manning call centers.  While the guard is willingly putting themselves and their families at risk as frontline workers, the USO is backing them, providing them with much needed supplies, establishing safe uplifting programs for families to boost morale during this trying time, and helping to provided food and supplies for any Service member who has been impacted by the coronavirus such as school supplies and a holiday gift drive.
Now, it's our turn to back the USO!
To support our service members, the USO needs supplies.  The snacks we collect through Snack Pack the Truck supply the USO lounges, are given out at events and provided to troops working at natural disasters or COVID testing sites.  
Hertrich has partnered with the USO since 2017.  This is our fourth year holding our Snack Pack the Truck Campaign to collect snack items for our troops. The very first year, we filled 6 trucks with snacks, followed by 8 trucks the second year and 18 trucks in 2019!  Aside Snack Pack the Truck, we enjoy joining the USO's Military Village at the Dover Race each year.  Hertrich's commitment to Delaware USO first because with a commitment to Veterans with the development of our Hertrich Hires Heroes Campaign.  Our Hertrich Hires Heroes campaign is a mission to hire 500 Veterans in 5 years.  From there, we began an annual military appreciation event to recognize our Hertrich team members who have served.  After a few years, we decided it was time to expand our commitment to veterans to our community outreach. The USO is a well-respect organization in the Military community and it has been an honor to work with them over the past 4 years. 
HELP US FILL THE TRUCKS!!!
Help us Virtually Snack Pack the Truck to Support USO Delaware.


One truck contains approximately:
40 cases of water at $3.00 a pack =$120
15 boxes of soda at $5.00 a box = $75
10 cases of Powerade at $3.00 = $30
10 boxes of crackers at $4.00 = $40
5 packs of napkins at $2.00 = $10
5 boxes of individually bagged chips at $7.00 =$35
7 boxes of individually wrapped cookies at $5.00 = $35
5 boxes of individually wrapped animal crackers at $3.00 = $15
10 boxes of fruit snacks at $4.00 = $40
TOTAL: $400 a Truck