Today's Military Spotlight has a two-fold purpose. The first is to commemorate Coast Guard Day. It is celebrated in the United States annually on August 4. This observance commemorates the anniversary of the founding of the U.S. Coast Guard as the Revenue-Marine in 1790. The Coast Guard is a single maritime service which is dedicated to enforcing the maritime laws and saving life at sea. Since 2002, it has been operating under the authority of the Department of Homeland Security.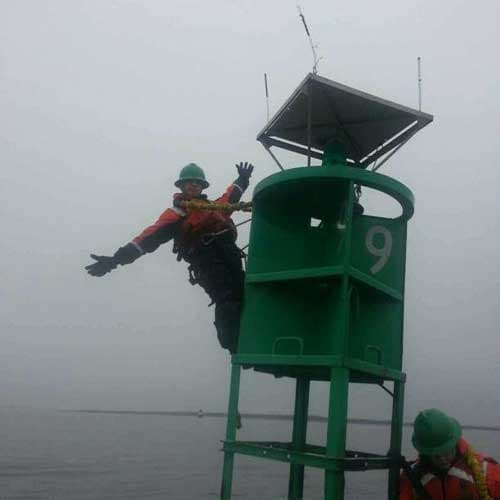 Secondly, we proudly introduce Hertrich's own Mike Riddle, a Member of Hertrich Ford of Easton's World Class Service Team since July of 2017 and a Coast Guard Veteran. Mike was raised originally in the area of Chatham, VA. Chatham is a "really small town," Mike says with a laugh that is adjacent to the Danville metro area and part of Pittsylvania County, Virginia's largest county. It also is about 15 minutes from the North Carolina border. He was raised there by his parents and has a little sister, 10 years his junior. Mike's love for the automotive world started young, when he was 5 or 6 years old, riding with his Grandfather in his prized Ford Galaxy 500. "I developed a love for cars and everything mechanical way back then. I can't remember the year but I remember it was a cream colored, and I loved to ride in it with him." Mike continued his interest in vehicles after he graduated in 2012, with his first job being that of a service porter for Steve Padgett's Honda in Danville. After a year or so working after leaving school, Mike decided that he really liked the structure of the military, took his preliminary testing and scored high enough to have his choice of branches in which to enlist. "Choosing the Coast Guard was easy," he said. "I am used to a family-oriented atmosphere in a small community, and since it is the smallest branch and generally allows you to be closer to home, I knew it was the right one for me." Currently the Coast Guard has just under 41,000 active members, 7,000 part-time reservists, 8,500 full time civilian employees and a total Auxiliary of 31,000 which is an all-volunteer workforce.
Mike began his journey with basic training at Cape May, NJ in June of 2015 and was then stationed in the U.S. Coast Guard Maryland Sector – Atlantic area in Baltimore, MD. It protects the National Capital Region, and the upper Chesapeake Bay and its tributaries. It is approximately 35 miles northeast of Washington D.C., and is one of the great eastern coast seaports with extensive facilities for container shipment and for the transport of automobiles via cargo vessels. Mike started his military career with a split duty; while in port he on the boats or trailers as a machinist tech assistant, monitoring all equipment. "My official title was a call-out fireman. It's not a fireman like in civilian life, it has to do with any required maintenance, operation and repair of the ship's vital electrical and propulsion systems. We also assisted with hull, engine and basic machine repair along with emergency management and damage control." If that wasn't enough, when Seaman Riddle was called out to duty, he was a member of those in charge of the Aids to Navigation marking the Intracoastal Waterways. They include all lighthouses, buoys, fog signals, day beacons, lights and any other devices used to provide "street signs" for large vessels and charter ships or even in aviation travel. He was trained in all electrical repair, a/c, d/c or solar of all long or short range systems and was certified to climb to do repairs on units up to 175 feet in height. "I visited all 44 lighthouses North of Chesapeake Beach, including Thomas Point." Thomas Point Shoal Light Station is the most recognized in MD, opening in 1875 and is part of the National Historic register, included on all Chesapeake Bay boat tours and since it is still functional, no civilian foot tours are allowed.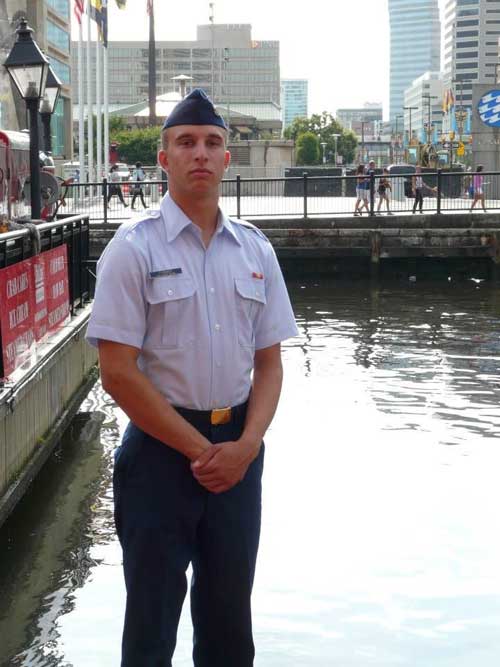 After an honorable discharge with the rank of E-3 in 2017, Mike decided to continue working with his hands, helping a friend in his construction business, acting as a foreman for a few years. Then the call of automotive sounded again, and he decided to permanently relocate to the Eastern Shore and set his sights on becoming a Hertrich Family member. "Baltimore was quite a shock to my small town system but it helped me develop necessary people skills and learn to enjoy a fast paced atmosphere. The Eastern Shore allows me to feel like I am a little closer to home." Currently Mike resides in Greensboro, MD with his wife Jennifer and their two dogs, his 5 year old Labrador Retriever and a 1 year-old German Shepherd. He says his military training helps him in his position as a service advisor because his job allows him to use his attention to detail skills, having done multi-point inspections hourly on vessels and navigation systems, with "the logging and bookkeeping that I did in the past really helping with the customer walk-arounds."
Mike is one of the results of our Hertrich Hires Heroes campaign, a mission to hire 500 veterans and their family members in 5 years. Mike believes Hertrich is a great second home for military members. "I would encourage any vet that I meet to look into our opportunities. I feel like our team at Ford and the entire organization has your back, similar to the team effort that it takes in the military. Everyone takes their responsibility to succeed as part of the whole unit, you win as a team." We agree, Seaman Riddle. The Hertrich Mission involves individual drive, personal responsibility and continuous improvement. Our success is based on winning with integrity, thanks to all of our Hertrich Family Members, including dedicated Veterans like you.